#MeetNobelAtNobelgatan: Mihály Kolodko's first mini-sculpture in Stockholm
The Budapest based Banksy-inspired Ukrainian-Hungarian guerrilla artist Mihály Kolodko installed his first ever mini-sculpture in Scandinavia, Alfred Nobel at Stockholm's Nobelgatan. The sculpture is a joint project between the Embassy of Hungary in Stockholm and the internationally acclaimed artist on the occasion of the 100th anniversary of the establishment of Hungarian-Swedish diplomatic relations in 1920 and the 120th anniversary of the first Nobel Prize Award Ceremony held in 1901.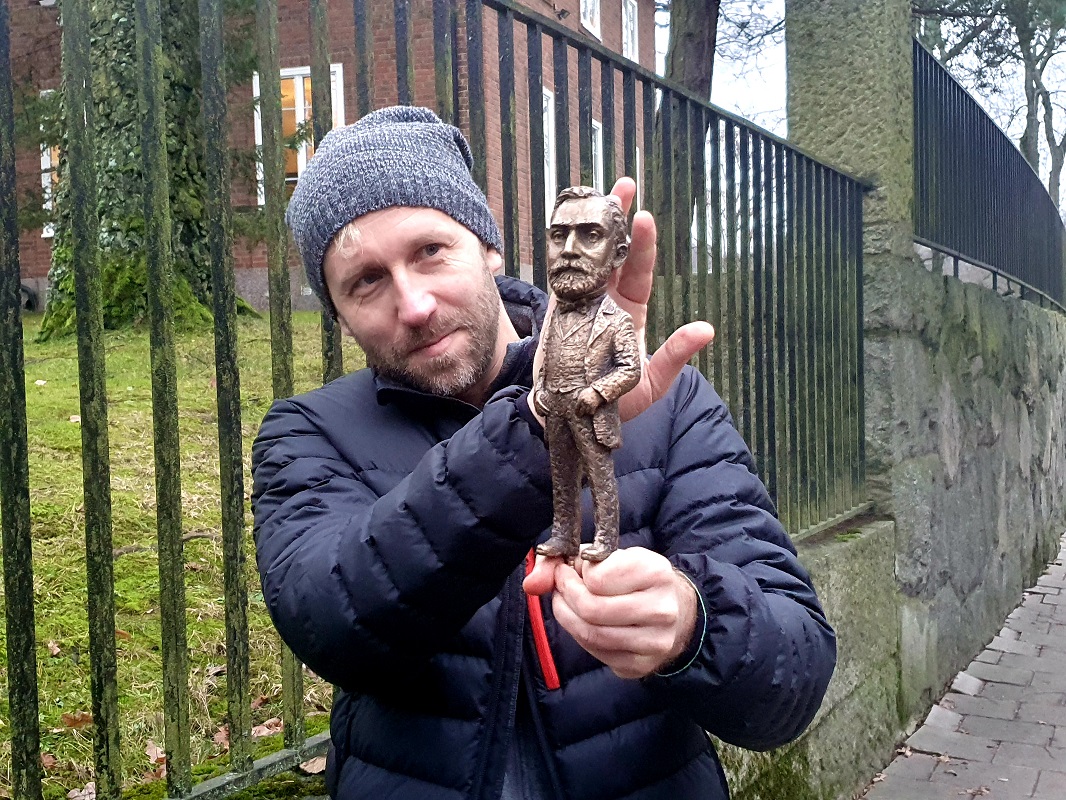 You find the Embassy of Hungary in Stockholm on Nobel street next to the Nobel park and now an Alfred Nobel miniature on the Nobel street looking at the Nobel park.
The project highlights the extraordinary figure of Alfred Nobel, with an ingenious hint that all great ideas start small before changing the world. The sculpture by Mihály Kolodko not only celebrates Nobel, his legacy and his idea to work for the greatest benefit of humankind, but it also celebrates all Nobel Prize laureates all over the world whom we are all very proud of, including also those with Hungarian origin or with Hungarian connections. Find the beautiful art piece of Alfred Nobel by Mihály Kolodko on Nobelgatan looking at Nobelparken, by the fence of our Embassy building.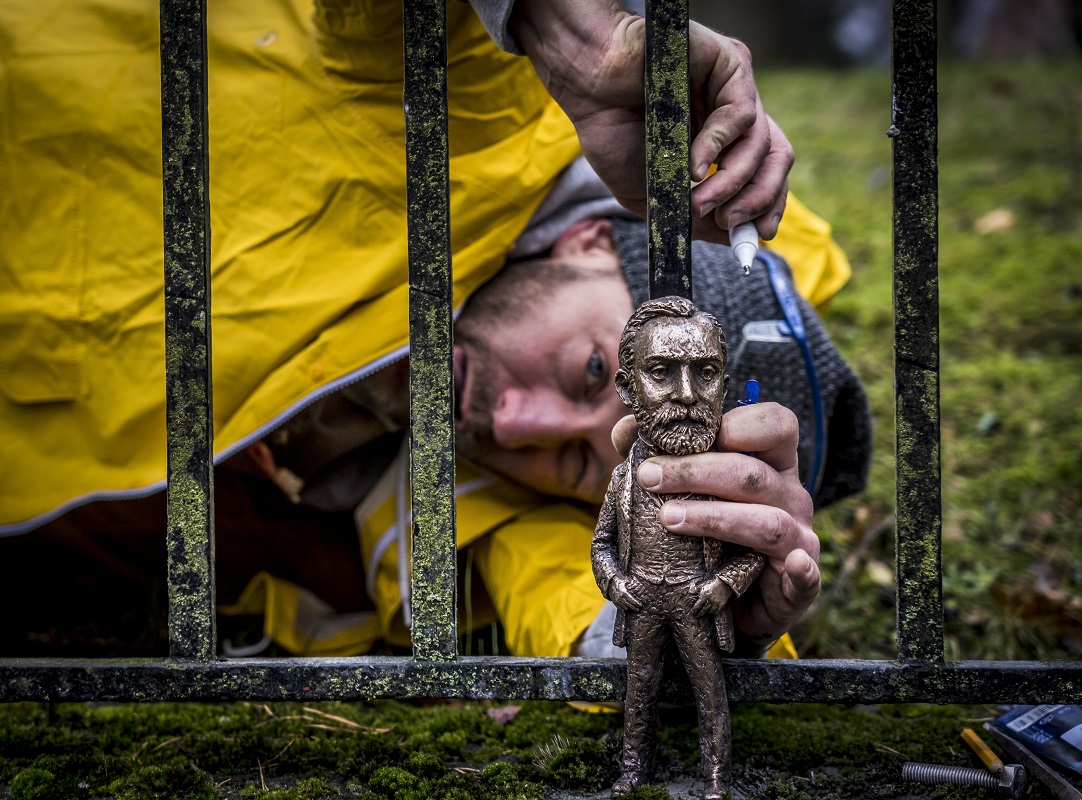 KMany art lovers admire Mihály Kolodko's miniature sculptures in cities including Uzhhorod (Ukraine), Budapest (Hungary), Munich (Germany), Rijeka (Croatia) and Princeton (USA). Now his art has arrived to Stockholm. The Alfred Nobel mini-sculpture is set to surprise and delight young and old locals and visitors alike and to add a new likeable spot to Stockholm city guides.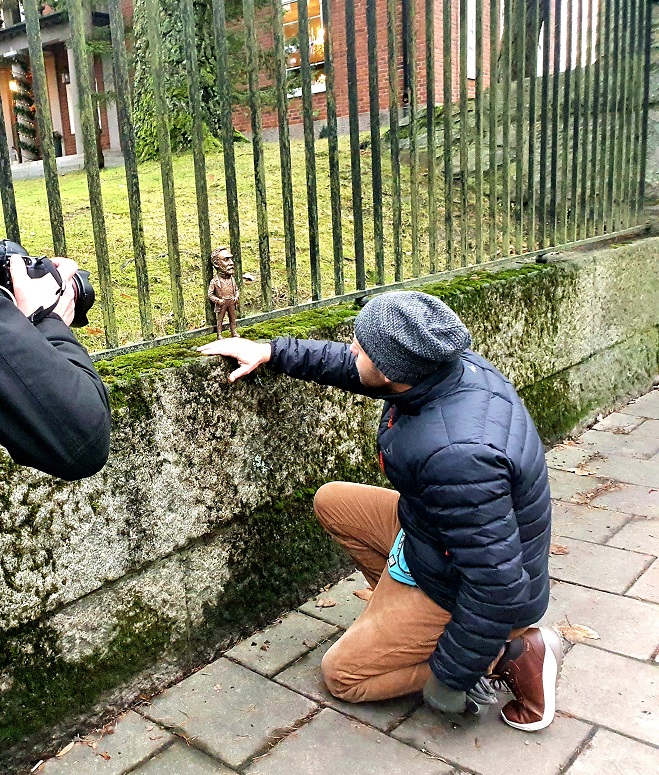 Come and meet Alfred Nobel at Nobelgatan. Share your photo on Instagram or Facebook. Recommended hashtags #NobelatNobelgatan, #StockholmNobelMini, #KolodkoNobel or #guerrillaNobel.
You will find more about the project on the Embassy's Facebook and Instagram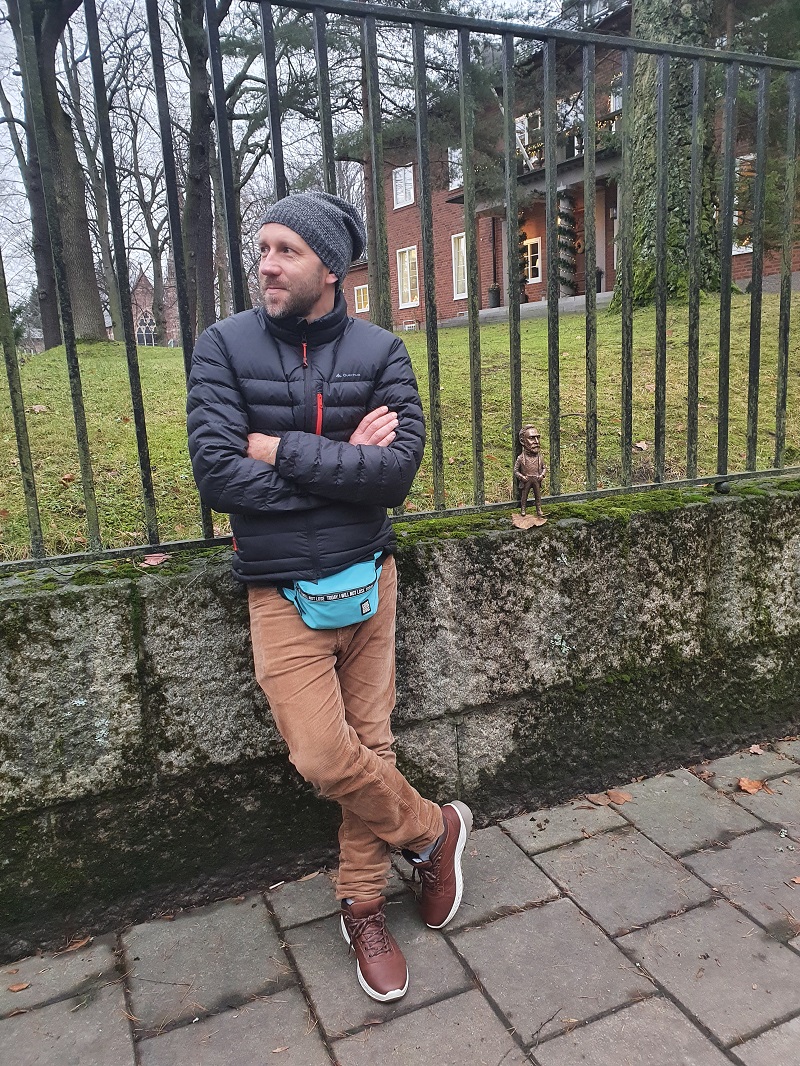 Mihály Kolodko is a street artist based in Hungary. He was born in Uzhhorod Ukraine (1978) and graduated from the Lviv Academy of Arts, Department of Monumental Sculpture (2002). Following an extensive series of producing large scale artworks, in 2010 he started experimenting with miniature urban sculpture that soon triggered a cult with urban arts admirers in various cities. In his artistic hometowns, Uzhhorod and Budapest a movement came to life to locate and visit his city miniatures, supported by an interactive map. For many, Kolodko changed the perception of contemporary sculpture, establishing an unexpected link between the speed and boldness of street art, guerrilla technique and sculpture. He deals with a vast amount of themes from historical to fictional characters, from Holocaust remembrance to admiration of artists and scientists. What they have in common is finding and filling a void. Kolodko tells us, it is possible to depict monumental ideas even in small form. More info: https://kolodkoart.com/