Den ungerska nationaldagen den 23 oktober firas till minne av Ungernrevolten 1956. Vi uppmärksammade dagen på ambassaden tillsammans med diplomater, våra svenska partners, bl.a. från regeringen, riksdagen, företag, kulturella institutioner, NGO:s, media, think tanks samt med ungrare som bor Sverige.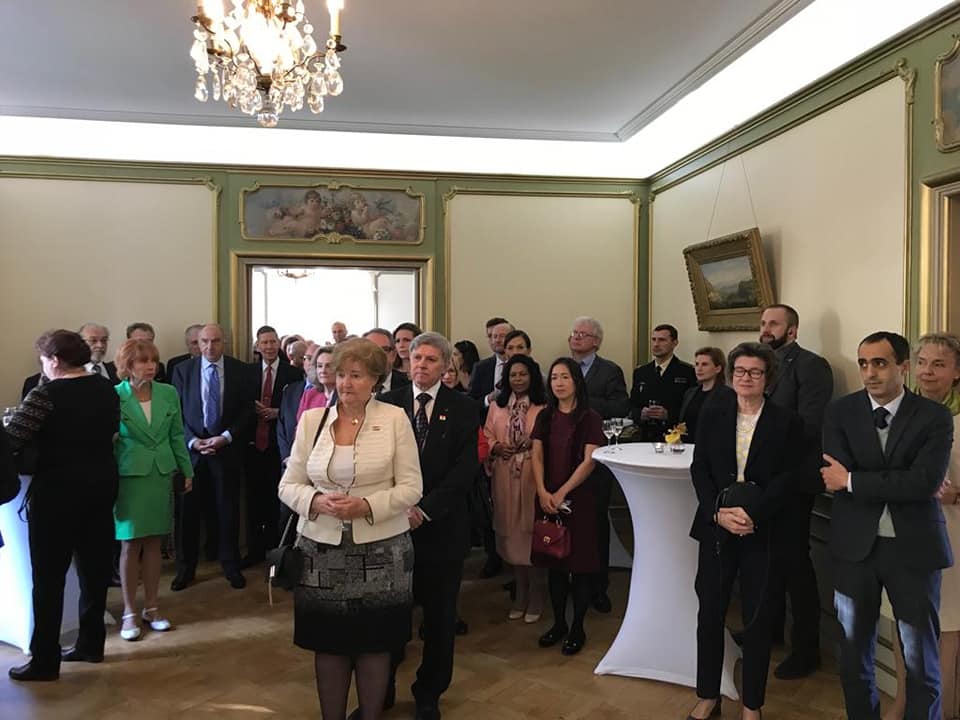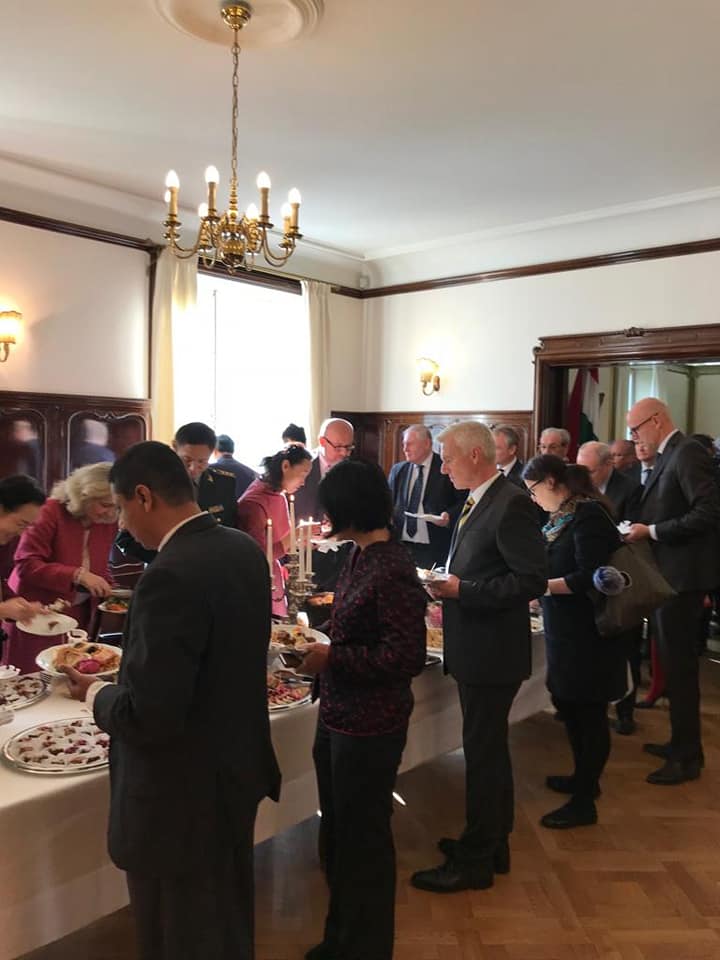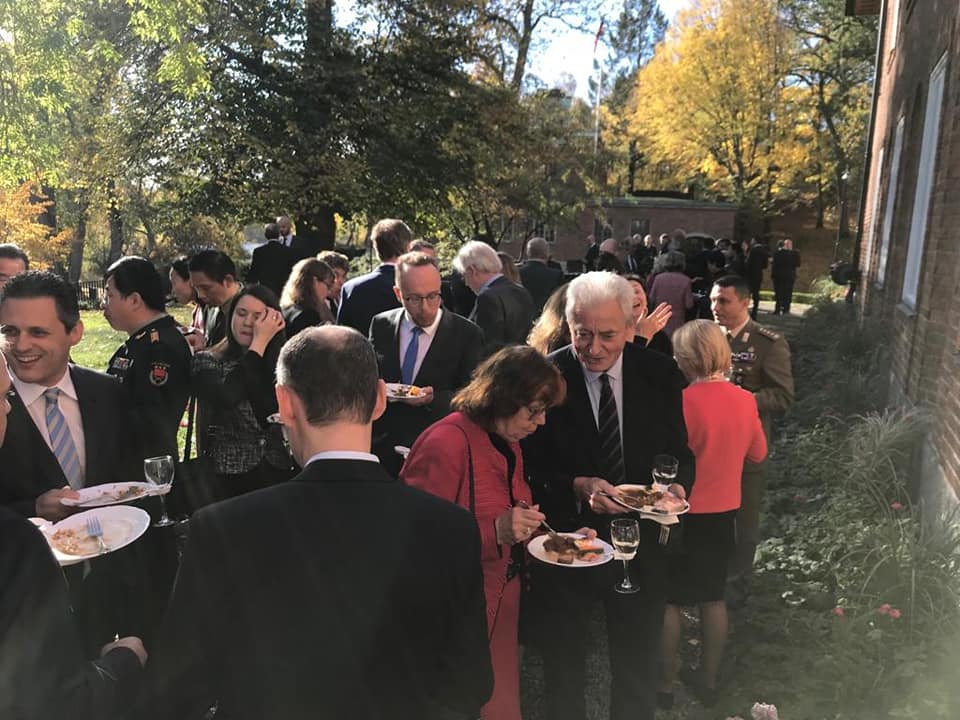 Vi hade äran att välkomna några av hjältarna från 1956 som idag är bosatta i Sverige. Stort tack till fotografen Anders Engman som tog historiska bilder på Budapests gator 1956. På ambassadens gård ordnade vi en liten fotoutställning som visade händelser från revolten.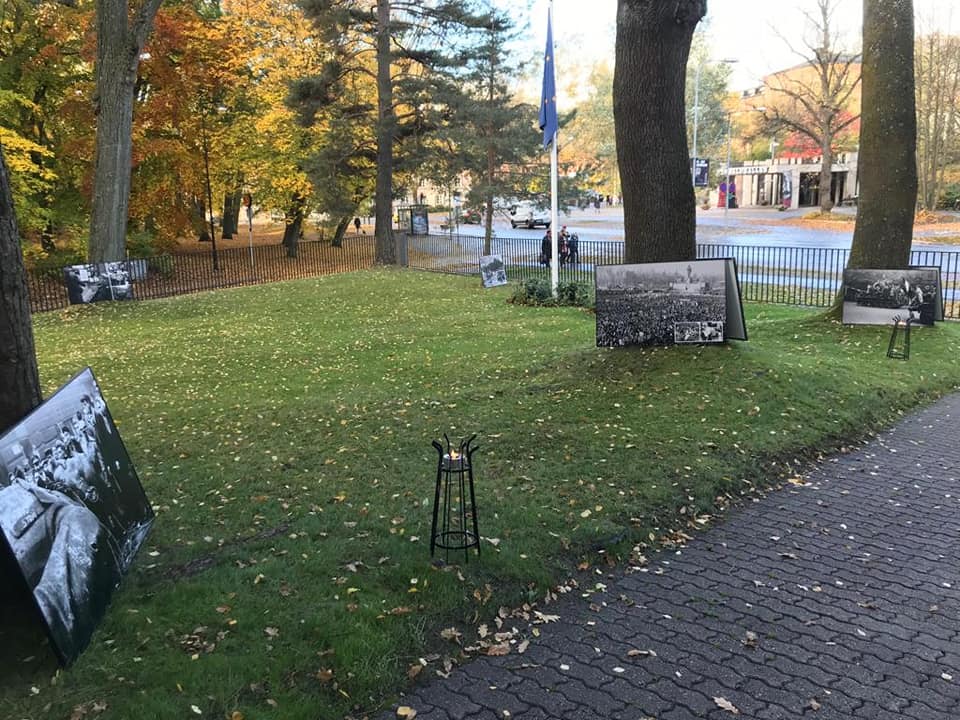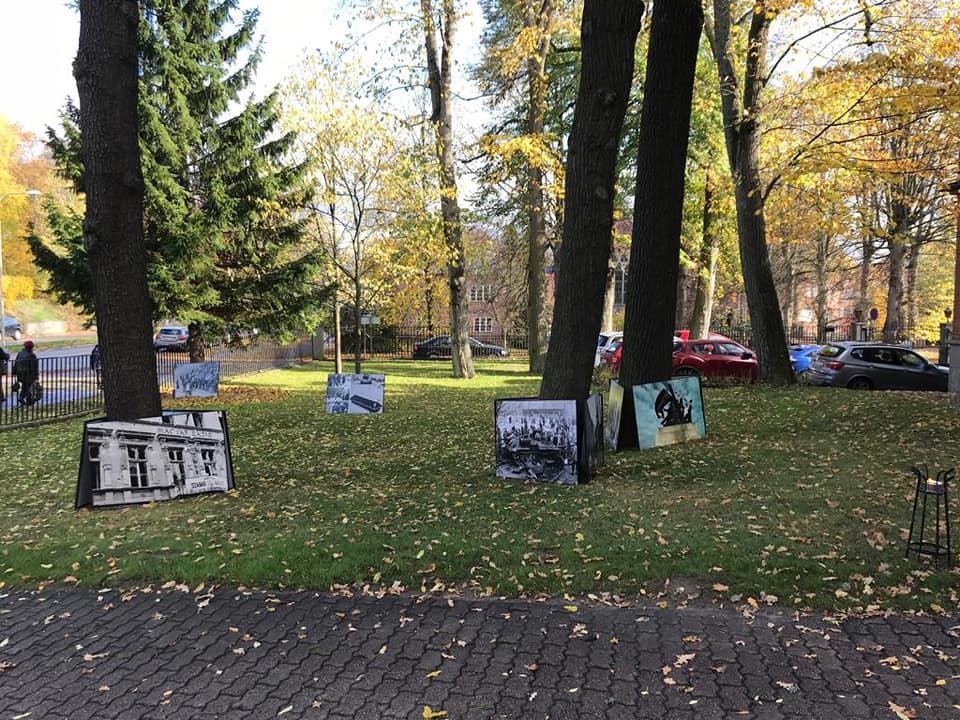 Se ambassadör Adrien Müllers tal nedan:
 
Speech by Ambassador of Hungary, Adrien MÜLLER, 18th October 2018, National Day Reception
Dear Excellences, Members of Parliament, President of Stockholm City Council, Colleagues, Dear Guests,
I welcome all of you at the Hungarian National Day reception commemorating the 1956 Hungarian Revolution and Freedom Fight. 62 years ago on 23 October University students organised a demonstration in Budapest, in fact a solidarity march for Poland, which evolved into something much bigger within a couple of hours. It became an uprising for freedom and independence, a fight against the Soviet rule, against communist dictatorship, deportations, and imprisonments, against powerlessness, fear and terror. The Hungarians wanted the Soviet troops to leave their country and their state to be transformed into a democratic one. The revolutionists, these young people, were ordinary in their everyday life, but they became extraordinary as October '56 demanded heroism and sacrifice for their future, for their country, for my country, Hungary.
All these happened only 62 years ago. In each and every Hungarian family there is a father, a grandfather, a grandmother, an uncle, a cousin or a neighbour who participated or was involved in the fight for independence. We have some of the heroes of the 1956 revolution with us here today. Special welcome to them! It is a fact that finally we, Hungarians had to wait 30+ years to regain self-determination, freedom and independence. This is part of our as well as European history but this is also something for the present and for the future to learn. In the courtyard of the Embassy, you find photos taken at the end of October and beginning of November 1956. Please have a look and spend a moment with them. I would like to express my warmest welcome to Anders Engman who took some of those photos in Budapest in 1956.
Many Swedish people know Hungary because thousands of '56 Hungarian immigrants ended up in Sweden. They found their new home and life here. They integrated into Swedish society while keeping their Hungarian identity. A special appreciation goes to the Swedish people who welcomed and received them. All Hungarians living in Sweden today are special bridges between our two countries.
The most important partnership Hungary and Sweden equally have is the European Union. Hungary is for a strong Europe and we believe that a strong Europe should be based on strong Member States. We are proud to be part of the European Union and this membership is very important for us. However, we also believe that in this partnership, all countries should be equally listened to and all aspects considered. With my colleagues at the Embassy, we work for this.
When I look around in the room, I see many of our Swedish friends and partners. You represent many pillars of our bilateral relations: the Government, the Ministry for Foreign Affairs, line ministries, agencies, Parliament, companies, cultural institutions, NGOs, media, think tanks, etc.
I feel very honoured and privileged to be Ambassador of my country here in Sweden and to work with you day by day on deepening and widening our bilateral ties and to better understand each other. I've been in Sweden only for a year but still, the list what we have already experienced and achieved together is very long. I would just like to mention some highlights like the visit of my Prime Minister at the Göteborg European Social Summit, the visit of my Foreign Minister to Stockholm in June this year, the visit of my President to address the Stockholm Water Week at the end of August or the visit of the Swedish Defence Minister to Hungary and frequent contacts between our MoDs and Armed Forces, not least as part of the Gripen program. We have achieved great results and continuously growing figures in our bilateral trade and investments, including the opening of the new office building of Ericsson Research and Development Center in Budapest. We have had many incoming and outgoing business delegations and consultations, successful cultural events organised with your partnership or support. Last, but not least: two elections this year, one in my country in April and the other here, in Sweden last month. Thank you very much for your excellent cooperation and please count on us even in the future. My colleagues and myself are ready and eager to even accelerate the speed of this cooperation.
With these words, I would like to welcome all of you once again. We are grateful that you celebrate our National Day with us. I raise my glass to democracy, freedom, independence, partnership and cooperation!